Lending or giving loans to customers is one of the most fundamental activities of banks. There are different types of loans that are designed to meet various needs. Today we are going to learn how to download or check Canara Bank loan statement.
There are different ways to get your loan statement. If you want, you can get it online using internet banking and mobile banking. And in case you prefer the offline process. Then you can go to the Canara Bank branch where you took the loan.
What are the Requirements to Check the Loan Statement?
Each account has its own account number. It can be a savings account, a checking account, or a loan account. To get the statement, the most basic thing you should have with you is your account number.
If you want to check the statement online. Next, you will need to access your internet banking or mobile banking account. (Customer ID, Password and MPIN)
But if you want to get the statement offline. Then you will only need your loan account number and one of your ID proof.
Will the Bank Charge for the Loan Statement?
If you get the statement online, the bank will not charge you anything. You can get it completely for free. But in case you get it offline. Then the bank can nominally charge you for the branch services. The charges will be deducted from your account balance.
Ways to Check Canara Bank Loan Statement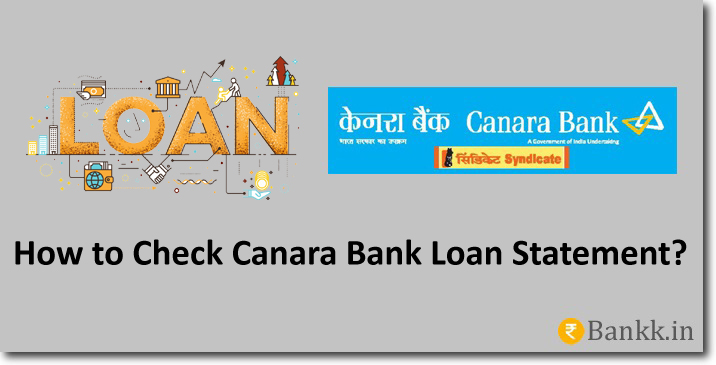 Using Internet Banking
Visit the official Canara Bank website and log in to your account. Click on "Loans" → "Loan Account Statements".
Now choose your loan account and the period for which you want to get your statement. If you wish, you can use the "Download" option to save your statement in PDF format.
Using Mobile Banking App
Download and install the Canara Bank e-Passbook app. Login to your account. Now choose your loan account number and the period for which you want to get the statement.
All transactions in your account will be displayed to you. If you wish, you can receive the statement by e-mail in PDF or XLS format.
By Visiting Branch
Go to the Canara Bank branch where you have taken the loan. Tell the bank employees that you want to check your loan account statement.
Provide the loan account number and show them your ID. The bank will give you a printout of the statement.
Conclusion
Keep in mind that the bank may charge you for the printout you get. You can use the e-Passbook app to get a statement of your Recurring deposit and Fixed deposit as well. If you need more information, call customer care on 1800 425 0018.