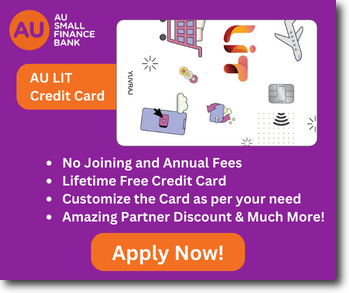 A bank account means money. And we are dealing with the money. Then we have to make sure we are doing it in the right way. There are a lot of things that the bank does to keep our money safe. And one such thing is the debit card PIN number.
This PIN is just a number but plays a very important role in keeping our money safe. We also need to make sure that we never share this PIN with anyone. And no one from the bank will ever contact us asking for this PIN number.
So if you ever receive any call, SMS, or an email that asks you to share your PIN number. Then you should never share it. Even the banks keep communicating the same to the account holders. We receive periodic messages from the bank telling us not to share our sensitive account information with anyone.
But what if you have shared it? or your PIN is exposed?
If somehow your PIN is exposed to someone. Then you should take immediate action to change your PIN. When you change it your old PIN which is exposed will become invalid. So this will help you make your debit card secure again.
But how can you change it?
There are a number of ways by which you can change debit card PIN. I will explain all the possible ways to you in this guide. At the same time, we will also discuss everything that is possibly related to debit card PIN. So in this guide, you will not only learn how you can change the PIN. But everything that is related to it.
What is Debit Card PIN?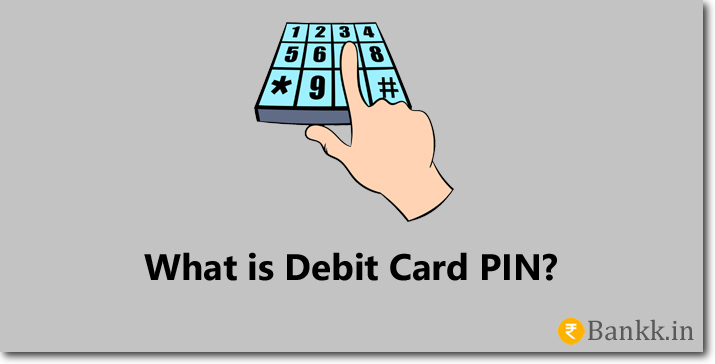 A debit card PIN is nothing but a 4 digits password that is used while making transactions with the card. No matter where you are using your card. Your transaction will never get completed until you enter your correct 4 digits PIN number.
This includes both online transactions and also offline transactions. (cash withdrawal) During earlier days the banks used to generate the PIN for customers. And then the PIN used to be sent via courier to the registered address of the account holder. But these days the banks don't generate it for the customers.
Instead, the customers are given the freedom to set their own PIN. And also change it whenever the customer wishes to change it. This PIN remains the same for domestic and also international transactions. This means if you are using the card in India or the United States of America. Your PIN remains the same.
Why Change the PIN?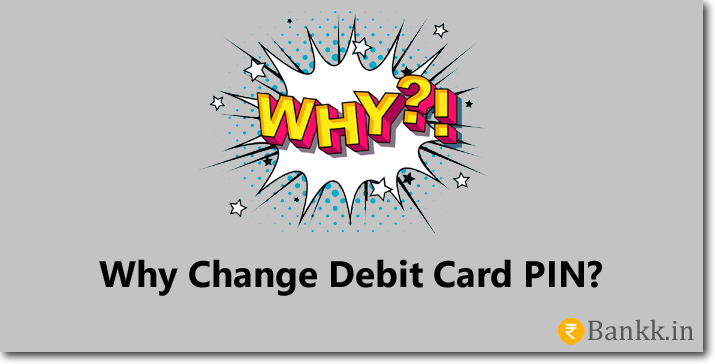 It is always told to us by the bank that we should periodically change our PIN number. And also the other passwords related to our bank account.
But why?
The reason is even if your PIN or the password has been exposed to someone. Changing the PIN will make your old PIN invalid.
This means the person or the website which knows your old PIN will not be able to make any transactions with your debit card.
What is the Format of Debit Card PIN? (Digits)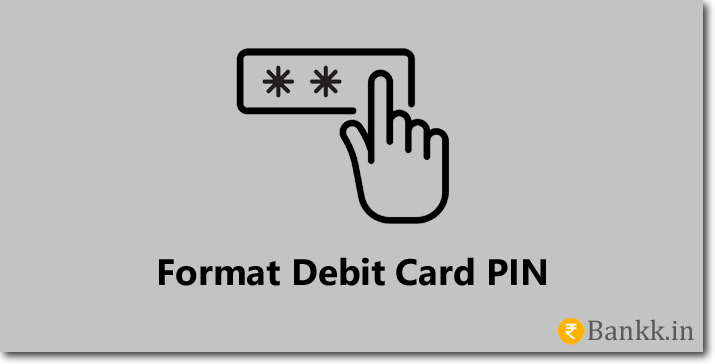 The general format of debit card PIN that is followed worldwide is of 4 numeric digits. You can not make use of any alphabets.
For Example, Generally, a PIN can be 1234, but it can not be 1A2B, etc.
As of now there no banks allow customers to use an alphanumerical PIN for debit cards. But we can expect the banks to allow the use of such PINs in the future.
Because an alphanumerical PIN is hard to guess when compared to that of the 4 digits numerical PIN. But for this, there is a requirement for an update in the existing infrastructure.
That is because the current ATM network and also payment gateways support numerical PIN. If the world's financial industry decides to change this.
Then this can be fixed with the help of software updates with most of the ATM machines. That is because most of the ATM machines have a keypad which also has Alphabets mentioned on them.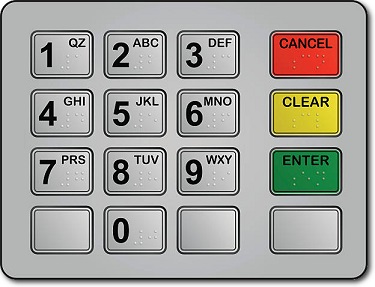 But we can also find a number of machines that do not have the alphabets embedded on the buttons. So in such cases, these keypads have to be replaced. (only if the financial industry decides to allow alphanumeric PINs)
What Happens If Wrong Debit Card PIN is Used?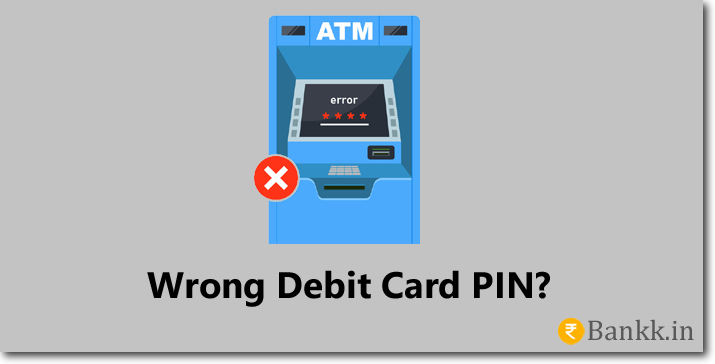 There is a limit on how many times you can guess the PIN of your debit card. If you enter or use the wrong PIN multiple times. Then the bank's system will automatically block your card.
Usually, you can try guessing a PIN 3 times. If you enter a wrong PIN more than 3 times. Then your card can be blocked for the next 24 hours. And in some cases, it can be blocked until the bank releases the block.
How to Fix PIN Tries Exceeded ATM Error?
If you are getting the "PIN Tries Exceeded" error while using your debit card with the ATM machine. Then there is a way to fix this error.
You will have to call the customer care of your bank. Tell the bank that you are getting this error. The bank will verify your details and will remove the block on your card.
Sometimes even the banks can not remove this block. The block will be automatically removed by the bank's system after a specified period of time.
If this is the case then the bank will tell you the time when your card's block will be removed automatically.
Is There Any Limit on How Many Times the PIN Can be Changed?
No, there is no specified limit of how many times you can change your debit card PIN. But it is not recommended to change it unnecessarily.
Change the PIN only when you really feel there is a requirement to do it. Because it can also get difficult to remember the PINs.
How to Generate a Strong Debit Card PIN?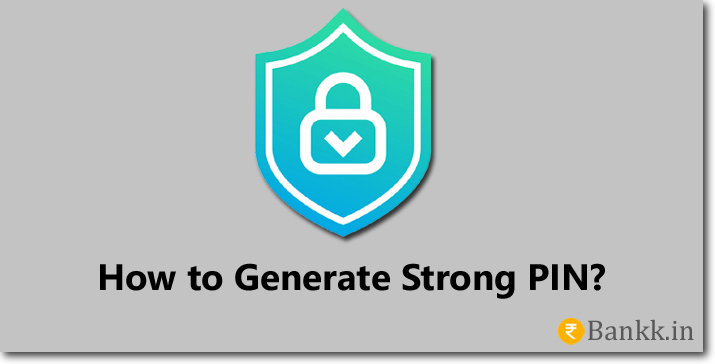 It is recommended that you use a strong and hard-to-guess PIN for your debit card. You should not use PINs which are very easy to guess.
For example, you should not use PINs like,
Your date of birth.
Vehicle registration number.
Starting digits of your mobile number.
Ending digits of your mobile number.
Starting or ending digits of your debit card number, etc.
These should be avoided because they are very easy to guess with the help of social engineering.
Then how to generate a strong debit card PIN?
There are a number of websites on the internet that help you to create a random password. You can use the Password generator by LastPass.
This tool will help you to generate your PIN which will be hard to guess.
Open the Password Generator by LastPass.
Set the password length to 4.

Untick Uppercase, Lowercase, and Symbols.
The password generator will generate a good password for you.

If you don't like the generated one then click on the "Regenerate" button.
Why Untick Uppercase, Lowercase, and Symbols?
When you untick uppercase, lowercase, and symbols, the password generator will not include any of these. It will include only numbers.
This is important because you can only use 4 digits of numbers as your password. And you can not include any alphabets and symbols.
You can use this generator if you wish. There a number of such password generators available for free use on the internet.
And in case you don't want to use any such generator. Then you can create a strong PIN by yourself as well.
But please note that you should not enter your debit card details like number, expiry date, and CVV to generate a PIN.
Just set the preference to number only and length to 4 digits. And you are good to go.
What are the Different Ways to Change Debit Card PIN?
Different banks allow customers to change the PIN in different ways. I have explained all the ways below. After this, I will tell you how you can do it in all the major Indian Banks.
Using ATM Machine
This is the most traditional and common way to change the debit card PIN. You have to locate the nearest ATM machine that is owned by your bank.
Insert your card into the machine → Choose the language → Enter your Existing PIN → Select Banking → Select Change PIN → Enter New PIN → Re-enter the Same → Authenticate Yourself.
There are two different methods that the banks use to help you authenticate yourself while changing the PIN. It depends upon your bank which method it wants to use.
Some banks send an OTP to the registered mobile number which you will have to enter into the ATM machine.
And some banks ask you to generate the Green PIN OTP using the machine or by sending an SMS banking keyword.
Using this method you will be able to change your PIN instantly.
By Sending SMS
Some banks have specific SMS banking keywords that can be used to change your debit card PIN number. Just find out the keyword.
Type the SMS in the correct format and send it to the phone number that is given by your bank.
Please note that before you send your bank, make sure you have entered the right phone number. And not all banks support this way to change the PIN. If your bank allows you to do it then you can follow this way.
Using Internet Banking
This is one of the most convenient ways to change your debit card PIN. If you have registered to use internet banking facility. Then you can use this facility. And almost all the banks support changing the PIN online.
Login to your Internet Banking Account → Select Debit Card Services → Select your Debit Card → Click on Change/Set PIN → Enter your New PIN → Re-enter New PIN → Enter your OTP → Your New PIN will be set.
The bank will send you an OTP to your registered mobile number. In the last step, you will have to enter the correct OTP and click on the "Submit" button.
The next PIN will be changed instantly.
Using Mobile Banking App
This method is very similar to that of the internet banking method. The only change is we are not using the official website of the bank.
Instead of that, we will be using the official mobile banking of your bank.
If you have the app already installed on your smartphone. Then you can directly follow the steps. But in case you have not installed the app yet.
Then install the app from the Google Play Store if you are using an Android user. And in case if you are an iOS user then you can install the app from the Apple App Store.
You should avoid using third-party sources to install the mobile banking app.
Open the Mobile Banking App → Enter your Login Details → Select Services → Debit Card Services → Choose your Debit Card → Enter New PIN → Re-enter New PIN → Enter your OTP or MPIN.
Using Customer Care IVR
Before I explain to you how this method works. I want to tell you that not all banks support this feature. There are only a handful of Indian Banks which support this feature.
If your bank supports this then you can use this method to set your new PIN.
Call the Customer Care of your Bank → Select Language → Debit Card Sevices → And Follow IVR Instructions.
Will Bank Charge me to Change the Debit Card PIN?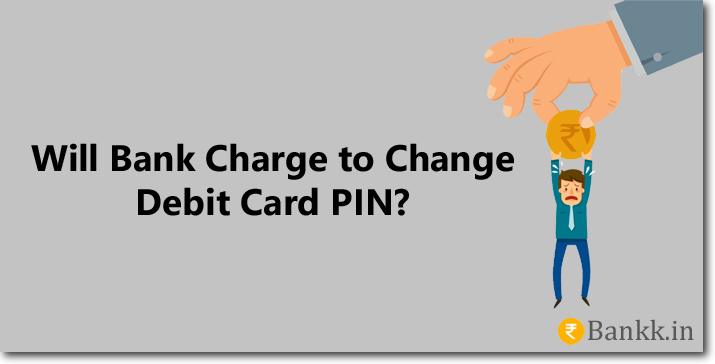 No, your bank will not charge you to change your debit card PIN. This will be done free of cost.
But in some cases, you might get charged and they are,
By your Telecom Operator: If you are using the customer care method or SMS banking to generate OTP. Then your telecom operator may charge you for the SMS you send.
By Use of ATM Machine: Every bank gives free usage of ATM machines for the customers. If you have used all the free usage. Then the bank will charge you for the ATM usage. But not for changing the PIN.
How to Change Debit Card Pin Major Indian Banks?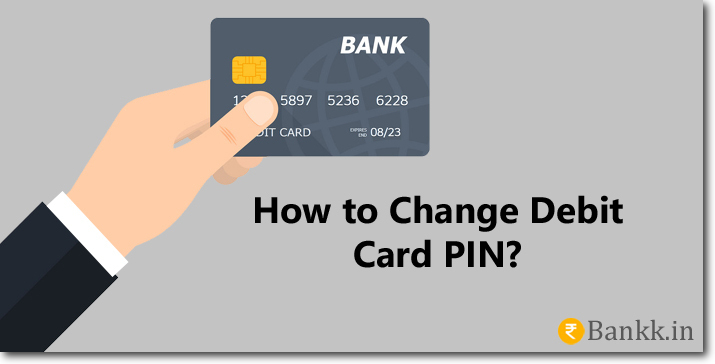 Choose your bank below to learn how you can change your PIN number.
Conclusion
This is all you need to know about the debit card PIN and how you can change it. But take care that you are don't share details of your card with anybody. If you are facing any difficulties then call the customer care of your bank. And if you have lost your card then you should immediately block it.