If you have a recurring deposit account with Canara Bank. Then you can download the account statement online. This can be done using internet banking and the e-Passbook app. With the help of this article, you can learn the process to download Canara Bank RD statement.
The bank will not charge you anything if you download the statement online. But if you want to get it offline by visiting your home branch. Then the bank may ask you to pay a service charge which will be deducted from your account balance.
Ways to Download Canara Bank RD Statement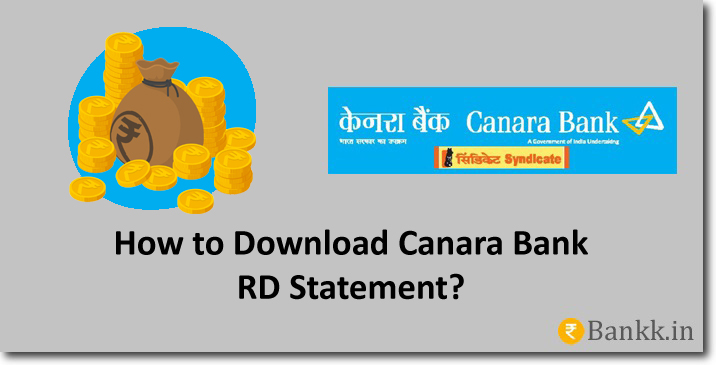 There are two ways to download the statement online. And there is an offline way by following which you can get the statement from your home branch. All three ways are explained below.
Using Internet Banking
Visit the official Canara Bank website and log in to your account. You must have your customer ID and password to log in.
Once logged in, click on "Deposits" → "RD – Statement". You will be shown all of your recurring deposit accounts.
Choose your account, then choose the period for which you want the statement. Finally, click on the "Download" button to download your statement.
Using e-Passbook App
Install the Canara Bank e-Passbook app and log into your account. Once logged in, tap on the "Email Account Statement" option.
Now select your recurring deposit account number. After selecting the account number, you must now select the period for which you want to download the statement. (1 month, 3 months, 6 months, etc.)
You can choose the format in which you want to download the statement. Two formats are available to you. And they are "PDF" and "XLS" choose the format and click on the "Send" button.
The bank will send your recurring deposit account statement for the selected period to your registered email address within 2 minutes.
So now check your email and download the statement from there. The file will be password protected, you will find the password instructions in the email.
The Canara Bank e-Passbook app is available for both Android and iOS users.
By Visiting Home Branch (offline)
Take any ID document and visit your Canara Bank home branch. Speak with the employees and tell them that you want to get your RD account statement.
Provide details like your name and RD account number and the period for which you want to get the statement.
The employee will provide you with the printout of the statement. But keep in mind that you may be charged if you get the offline statement.